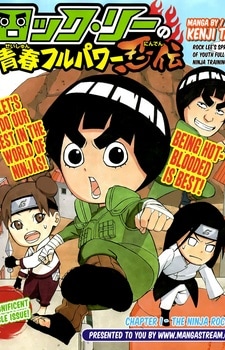 Title: Rock Lee no Seishun Full-Power Ninden
Mangaka: Kenj Taira
Genre: Action, Adventure, Comedy, Martial Arts, Shounen, Super Power
Parent Story:
Naruto
Serialised In: Saikyou Jump
Synopsis: A story about Rock Lees ninja training.
As some of you may know Jump released another magazine which is aimed at younger children instead of what WSJ is typicaly aimed at, inside there will be various spins off from popular JUMP titles, there is a KHR Spin Off, One Piece spin off, Dragonball Spin Off and a Naruto Spin Off
I read the others and werent too impressed and found them boring (Chopperman in particular), then i read the Rock Lee spin off, and to my suprise i actualy enjoyed it, whether that has something to do with my dislike for Naruto has any bearing on my enjoyment i dont know. But i can say with total honesty that this (bearing in mind its target audience) is miles above in qulaity of Naruto.
I actualy recommend you try it out (even the other spin offs) jsut to see what you make of it.